DogWatch is not
just for dogs
Our products work for cats and other pets, too!
Our Outdoor Hidden Fences and Indoor Boundaries are a great option for cats, too. You can use the same collar with indoor and outdoor systems - so it's a great way to keep your cat(s) safe and out of trouble both inside and outside your home. What's more, our fence systems have been used successfully with pigs, goats and horses! Contact us today to learn more.
Frequently Asked Questions
---
What is a DogWatch Cat Fence?

How does the hidden fence work?

Does the hidden fence work for outdoor cats?
How does my cat learn where the boundary is?

How old does my cat need to be to be ready for a pet containment system?

Will the hidden fence work for more than one pet?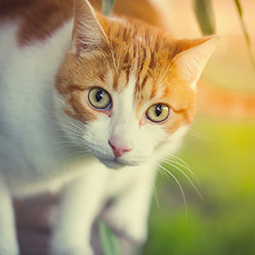 Want to learn more?
Contact us today to request more information or to receive a free quote. We'd love to show you how our indoor and outdoor containment systems can keep your cat safe and out of trouble, and give you greater peace of mind.
Contact Us
Customer Testimonial
After losing two cats to road accidents, the comfort and reassurance your system has given me has been immense.
Mandy