Just What the Doctor Ordered
Under our Vets & Partners (VIP) Program, participating veterinarians have displays in their waiting rooms with $50 off coupons like the one pictured below. When you take one of the coupons and present it to DogWatch®, you save $50 on the installation of a DogWatch® Hidden Fence System, as well as a $25 credit on a future visit to that veterinary office. If you adopt an animal from a shelter, the $25 credit will go to the shelter of your choice to help it defray operating expenses.
Always Thinking of Four-Legged Friends
DogWatch® of Greater Pittsburgh has initiated a variety of programs to promote the health and well-being of your pet, as well as dogs who are less fortunate. These offerings include our Vets & Partners (VIP) and Referral Programs, as detailed below. You can also check out the latest edition of the DogWatch® DogTales newsletter.
Did you know you can trade in  your existing system for a DogWatch Hidden Fence?
Read more about our Trade-In Opportunities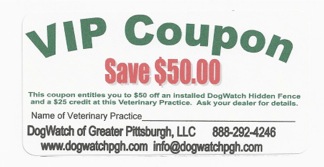 Like what you see?
Contact us today to get things started!